The CFP Digest: Event invitation on October 25th on why it's hard to vote and belong in some places
A conversation on why it's hard to vote and belong in some places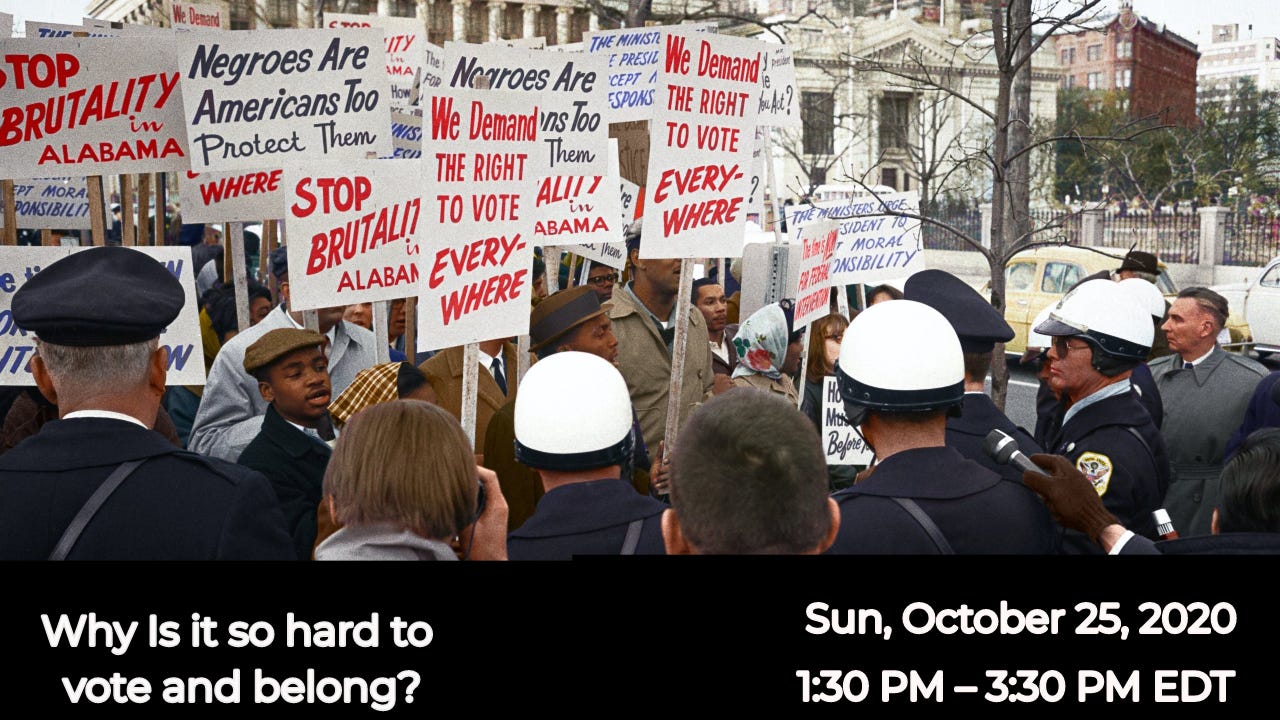 1 Conversation Event Invitation
I hope you're staying safe and remaining as upbeat as can be expected as winter arrives. I wanted to invite you to join in an online "kitchen table" dialogue on Sunday, October 25 from 1:30 to 3:30 PM ET about the following questions:
Why is it so hard to vote and feel like you belong in some democracies like the US?

Why is fear an overriding emotion in this US election?

How are you feeling in the final days before the election? How will you feel afterward?
If you are available, please register

HERE

.
There are 12 spots and the event is free. Please note the last day to register is by 4 pm ET on Friday, October 23rd.
---
2 Quotes
John Lewis on the movement:
"We used to say that ours is not the struggle of one day, one week, or one year. Ours is not the struggle of one judicial appointment or presidential term. Ours is the struggle of a lifetime, or maybe even many lifetimes, and each one of us in every generation must do our part."
― John Lewis, American Member of Congress, civil rights activist, and author Excerpt from Across That Bridge: Life Lessons and a Vision for Change
Maya Angelou on freedom:
"You are only free when you realize you belong no place — you belong every place — no place at all. The price is high. The reward is great."
―  Maya Angelou, American poet, memoirist, and civil rights activist
---
3 Positive Stories
i.
Jacinda
Ardern
on kindness and listening
New Zealand's Prime Minister Jacinda Ardern won a landslide reelection winning 49% of the vote (27% for the second-place party). Maybe, voters appreciated her 2018 message to the UN on kindness here. Or maybe people resonated when in less than 60 seconds, she talked about the importance of listening in her victory speech. Click here or the video below.
---
ii
Pete Souza on respect and dignity
Pete Souza was the White House photographer for Ronald Reagan and Barack Obama. This newly released film is Pete's reflection while being a fly-on-the-wall with two of the most iconic American presidents. Both allowed Pete to capture the dignity of the office. Fair warning that it's a tear-jerker. Trailer here.
---
iii
John Lewis on voting and democracy
The Voting Rights Act of 1965 and John Lewis are forever intertwined. The civil rights leader and the United States Member of Congress left a legacy that will endure for generations after his death on July 17, 2020. The film, John Lewis: Good Trouble, about his life was released one week before his passing.
John Lewis delivered the 2018 commencement speech to Boston University's graduating class. He reminded them that the journey continues and encouraged them to never give up on each other. He told them that when they see something that is not right, they should say something, do something. Finally, he said,
"Participate in the democratic process and get out there and vote like you've never voted before."
---
Leave a comment below if you want to say something.
Share this newsletter
Subscribe to the CFP Digest if you want more like this or if you want to hear about upcoming 'kitchen table' conversation events.